-Phil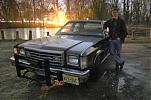 +'82 Ford LTD-S Police Car. 351w, 2bbl 2150 Carb, Full exhaust headers to tails. 3.27 Trac-Lok Rear. Aluminum Police Driveshaft. 86 Valve Body with a Baumann Shift kit.
+1975 Maverick- Fuel injected 302, Trickflow 170 heads, XE270 cam, explorer intakes, 24# injectors, custom tune. T5 transmission, 3.55 Yukon Trac-Lok rear.
+1989 Mercury Colony Park "Large Marge" Lopo 302. 3.55L K-Code Tow package, Big brake swap, rear discs, HO intake/TB.